This cheap and cheerful electronic dartboard from Unicorn might be the right choice for your needs. However, after testing extensively and using it at home for a considerable time, we discovered many problems with this dartboard. In this article, we will review the Unicorn electronic dartboard and help you decide if it's right for you – it was not right for us!
Last update on 2023-12-02 / Affiliate links / Images from Amazon Product Advertising API
Unicorn Electronic Soft Dartboard
This was a spur-of-the-moment purchase as I was curious if you could get a cheap electronic dartboard and have a decent game of darts on it.
Pictured right is the box. It arrived well-packaged and contained all the expected items.
In addition to the dartboard, you get 6 darts, 12 extra tips, and 2 screws, and 2 anchors for mounting. There's also an instruction booklet to explain the use and details of all the games.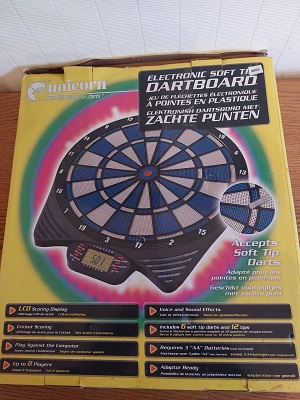 Setting Up the Unicorn Dartboard
There are 4 things you need to do to successfully set up this board but they are really simple and I had it up and ready in about 10 minutes.
Choose a space
Measure the space
Install batteries
Hang dartboard
1. Choose a Space
You need somewhere that has a flat wall and about 8 and a half feet of clear space directly in front of it. The throw line for electronic darts is 8 feet from the bullseye.
One thing to note in the instruction manual included with this board, the measurements are given are actually for steel tip darts. So ignore them and use these measurements instead if you want to play tournament standard.
If you are not concerned with that, put your throw line where you please.

2. Measure the Space
Using a tape measure, mark on the wall the 5ft 8 inches height. This is your center point and where the bullseye goes. Turn your board over and measure the distance from the center of the back to the hanging holes. Then measure the drop from the hanging holes to your bullseye level.
Measure the equivalent on your wall from either side of your center point and mark as this is where your hanging points are. I found that regular picture tacs (small nails) worked perfectly.
As the board is light, these were sufficient to hold its weight and not move around when removing darts.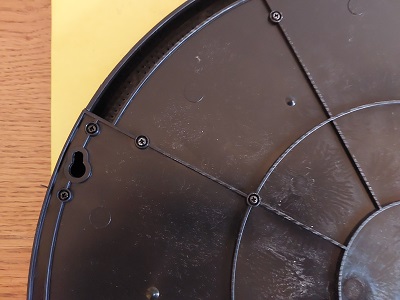 3. Install Batteries
This dartboard needs 3 x AA batteries for the electronic part to function. There is a section on the back bottom right of the board to insert the batteries.
Check they are placed correctly.
Try the on the switch to see if you have life.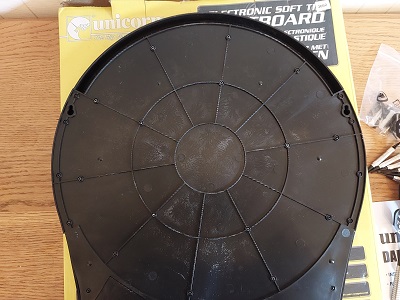 4. Hang the Dartboard
Lastly, hang your board on the nails or supplied mounting gear and measure your throw line. It should be 8 feet away from your wall but of course, use your own measurements if just playing for fun.
Unicorn Electronic Dartboard Overview
Introducing the Unicorn Electronic Soft Dartboard – perfect for family fun. This board is made from durable plastic and comes with 8 player slots, 176 game variations, and an LCD scoring display.
There's a Play Against the Computer feature to test your skills against the machine. Comes with 2 sets of darts for hours of entertainment. The machine allows you to play and keeps score for up to 8 players and the interface if fairly straightforward.
We started playing without having to read the manual. There is also a voice that tells you what score you hit and the LCD screen will let you know which dart you are on and what your score is.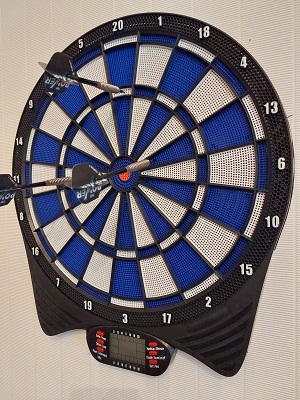 For anyone serious about getting good at soft tip darts this is probably not the dartboard for you. However, for a fun board for the kid's room it might be a nice, cheap solution.
PROS
Let's look at the main pros of this dartboard:
Cheap
Good for kids to play safely
Can play against the computer
Quick to set up
8 players can play
Scoring easy to manage
Easy to replace batteries
2 set of darts included
Sleep shut off after 10 minutes
This is a cheap and cheerful electronic dartboard that is good for kids' rooms or for a party. It's the kind of board you wouldn't worry too much about if it got damaged.
So far not had any problems with the board not registering hits (even though the darts do bounce out a lot). If you do get these errors it's because the section that you hit has not reset and is stuck in. To fix, take your board off the wall and give it a shake. This should shake the part loose and get it to reset.
CONS
However, here are the cons and unfortunately, there are some big ones:
Darts often bounce-out
Included darts are cheap and extremely light
Some game modes require to push buttons to indicate end of turn
Small LCD
Non-lit LCD
Does not always turn on
Some functions are complicated
For anyone who really wants to improve their soft tip darts game, this is probably not the dartboard for you.
I immediately abandoned the included darts. They are really poorly made, and in some cases, I couldn't even get the shafts twisted on all the way. Their construction is bad, and they are cheaply made darts.
They are also really light and I struggled to enjoy throwing them at all!
I've been using my Target Darts Phil Taylor Power 8-Zero Black 18G which is a tad risky as I was worried about them being too heavy for this board and in the instruction manual it does state not to use darts heavier than 16g. However, I've played for maybe 5 or 6 hours now in total and now damage to the board so far.
Despite the MANY bounce-outs and there were frustratingly many of them, the board always seemed to record the strikes accurately. The scoreboard works well though you really have to be right up next to the board to see anything, as it's small and not lit.
The voice sounds like a robot strangled a cat and was quite grating after a while.
You might also like Best Electronic Dartboard for Under $100.
Ease of Use
Getting started was really easy with this board and mounting was straightforward. The basic game functionalities are quick and easy to understand. However, there are a lot of functions that I've found extremely difficult to set.
For example, there apparently is a handicap mode which I was keen to try. The instruction booklet mentions it but really isn't detailed enough and the lack of display space means it was hard to know if you are in the correct setting.
When playing against someone, you have to press the button once your turn is completed and the next player can start. I think this allows you time to remove your darts without it starting to register the next move. So make sure to remove your darts before pressing the confirmation button for the next player.
The Games
Finding the game that you want to play can take a while as you have to keep pressing one button to cycle through all 25 of them. The basic countdown games and figuring out whether you are playing against the computer or another player as fairly easy to understand.
In the instruction booklet, there is a brief explanation of each of the games and you might find some of them tricky to grasp if the game is new to you.
The voice command does shout out your score so if you are playing the computer this is a lot of fun. However, there is no way to turn off the sound and it does wear on you after a while playing.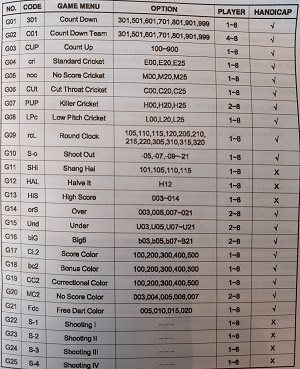 Recommended Alternative For Soft Tip Darts Players
If you are serious about playing a quality game of soft tip darts we'd recommend something like the Gran Board 3 LED bluetooth Dartboard.
With this type of soft tip dartboard, you can enjoy a quality electronic darts experience at home and play against people all over the world remotely!
It connects to your phone and through an app you can not only keep track of your own performance, you can also play the board or play remotely with friends!
.
For the Ultimate guide to all Unicorn Dartboards, check this article next.
In Summary
All in all, I was not impressed with the Unicorn Electronic Dartboard. The frequency of bounce-outs was back-breaking and dart destroying! Constantly having to locate and then straighten darts that have fallen on the floor was tiresome.
That combined with the small display and the annoying voice commands that can't be muted, I did not enjoy this board.
Although it may be a good option for beginners or kids, there are better boards out there that provide more features and a better experience.
If you are looking for an electronic dartboard, I would recommend checking out some of the other options on the market before making your purchase.
Check out our article Best 5 Cheap Electronic Soft Tip Dartboards.
Sue has been playing darts since her 20's when she played in weekly tournaments and she enjoys writing about darts. She's also a great teacher, and she enjoys helping others learn how to play the game well. When Sue isn't throwing darts, she enjoys spending time with her family and friends.
Get Our Free Darts Scoresheets Pack
The easy way to keep track of scores whilst playing
The easy way to keep track of your score is with our printable darts scoresheets. Easy to download and keep on your phone or computer or print straight off from our website. Pop your email address into the box and we'll send them straight to you.