A dartboard cabinet has many functions, including protecting your walls, making you look like a professional, and protecting your dartboard. Rustic dartboards look great. But best of all they're solid pieces of equipment that stand the test of time.
There are so many good rustic dartboard cabinets online that you may find it a little tricky to choose the best one. Worry not, as we've done the shopping around for you.
Keep reading to discover which rustic dartboard cabinet is the best you can buy.
Our Top Rustic Dartboard Cabinets
1. American Legend Barnwood Dartboard Cabinet
This American Legend Barnwood Dartboard cabinet is very affordable. But don't be put off by its low price tag as it's made from solid wood, is sturdy, and looks great. We particularly like the light 'wheat-finished' design that will fit in in any home.
Open the doors of this cabinet and you'll find built-in dart holders that hold up to six darts. The other door includes a mounted scoreboard which you can use with the chalk and eraser that comes with this cabinet.
The whole look is finished off with brass door hinges and a brass door opener.
Pros:
Budget-friendly
Made from solid wood
Nice finishing touches
Cons:
2. Brunswick Dartboard Cabinet
This Brunswick Dartboard Cabinet is a beautiful, solid, and durable dartboard cabinet. It's available in two rustic designs: Rustic Dark Brown and Rustic Gray. There are also Black Wire Brush and Espresso designs for those who want a modern cabinet.
We can't fault the authenticity of the rustic designs, though, which are made from hardwood. The antique-style hinges and door cabinets finish the look off perfectly. You also get a hanging cleat to help you pop the cabinet on the wall.
This board is great for storage as there are dart holes on the inside of the doors. There are also two chalkboards – one on each door, so you can easily keep track of your score. There's even a little groove to sit your chalk in to stop you from losing it.
Pros:
Looks good
Suitable for steel and soft-tip dartboards
Easy to mount on the wall
Cons: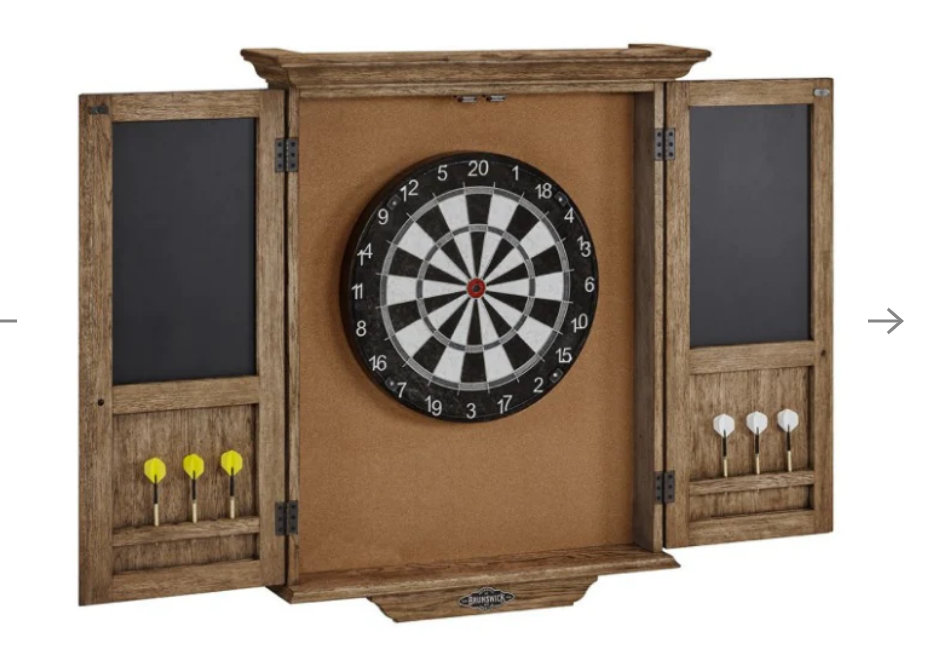 3. Heritage Free Standing Dartboard Cabinet
There's something about a free standing dartboard cabinet that screams rustic, and this Heritage Free Standing Dartboard Cabinet is no different. With three color options to choose from, this chunky cabinet is perfect for serious darts players.
Split into two cabinets, the top one is suitable for steel-tip, soft-tip, and electronic dartboards. There are also storage shelves for your darts and a scoreboard. The bottom cabinet has an adjustable shelf so you can stash your darts gear neatly inside.
Pros:
Two cabinets for the price of one
Suitable for use with all dartboards
Pre-drilled holes for electronic dartboards
Cons:
For the price, we'd like to see real leather incorporated into the design rather than the faux leather that has been used.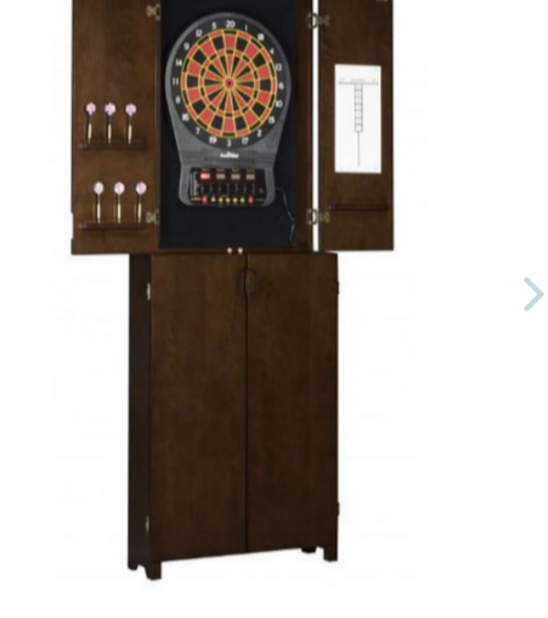 4. 2 Day Designs Mission Dart Board Cabinet Set Reclaimed Wood
Made from solid pine, this 2 Day Designs Mission Dart Board Cabinet is an impressive piece of furniture. It's available in four different colors and it's hard to choose our favorite as they're all so impressive.
One of the best things about this board is that it can be personalized with any name, which makes it a great gift for darts enthusiasts. If you need a new dartboard, you'll be pleased to hear that this cabinet includes a free Viper Electronic dartboard as part of the set.
We also like that the inside of each door holds two sets of darts which is perfect for darts players that are testing out different dart weights.
Pros:
Includes free dartboard
Can be personalized
Made from reclaimed wood
Cons:
This dartboard is made to order so shipping takes a few weeks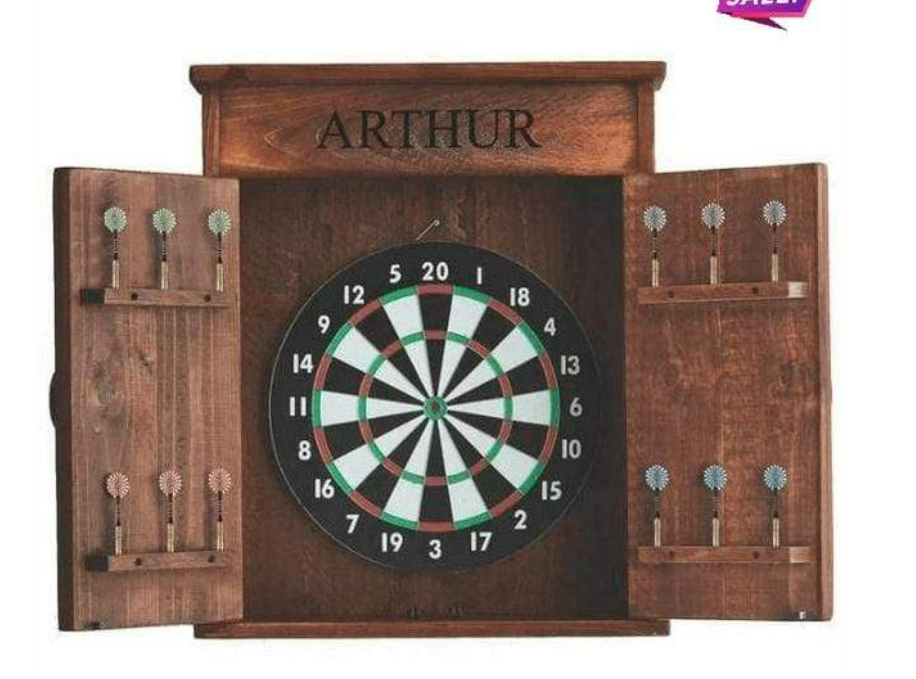 5. Aspen Log Dartboard Cabinet
We wouldn't say that the Aspen Log Dartboard Cabinet was completely a cabinet. It looks more like a dartboard frame to us. But, either way, it's a stunning and rustic piece that we couldn't not add to our list.
The most impressive part of this cabinet is the logs that make up the frame. They're chunky and solid and give a real country feel. The aspen logs on the corners of the cabinet have been hand-peeled, so you know that this cabinet has been made with care and skill.
You haven't got to worry about the logs falling apart, either, as you can choose to have them protected with either a clear or honey finish.
Pros:
Made in the USA
Looks amazing!
Wood is protected
Cons:
What you see is what you get. There are no dart holders, scoreboards, or similar with this cabinet.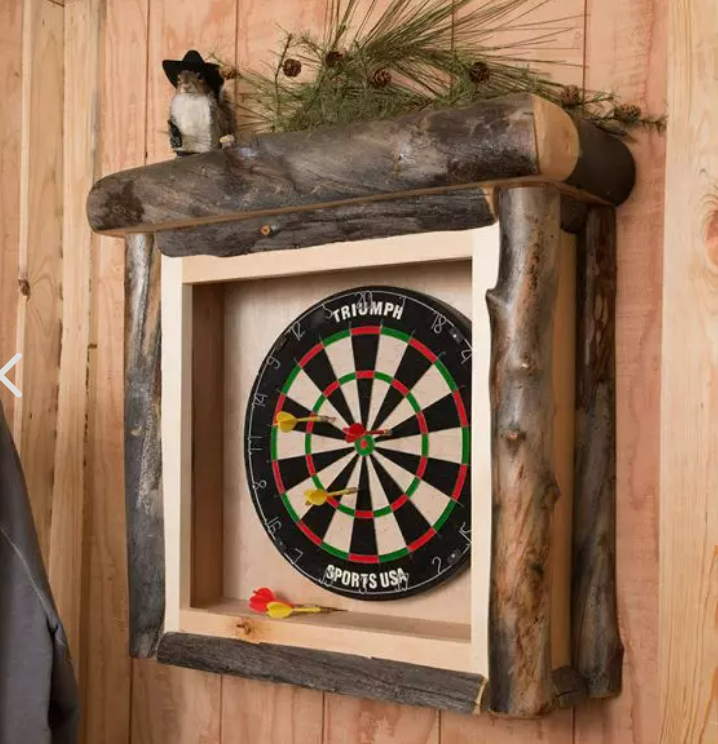 6. Presidential Billiards Rustic Chocolate Dartboard Cabinet
The dark wood of this Presidential Billiards Rustic Chocolate Dartboard Cabinet is striking and makes us feel all warm and cozy. The design of this cabinet mimics a barn door and is finished off with some rustic door handles.
As this is a large dartboard cabinet, it fits both bristle dartboards and electronic dartboards. There's even a predrilled hole in the side of the cabinet if you do decide to pop an electronic dartboard inside.
that
On the inside of this dartboard cabinet, there are two scoreboards that can be used with chalk. There are also some nifty darts holders that sit below the dartboard. It's all finished off with some rustic paneling.
Pros:
Authentic, rustic design
Suitable for all types of dartboards
Looks great
Cons: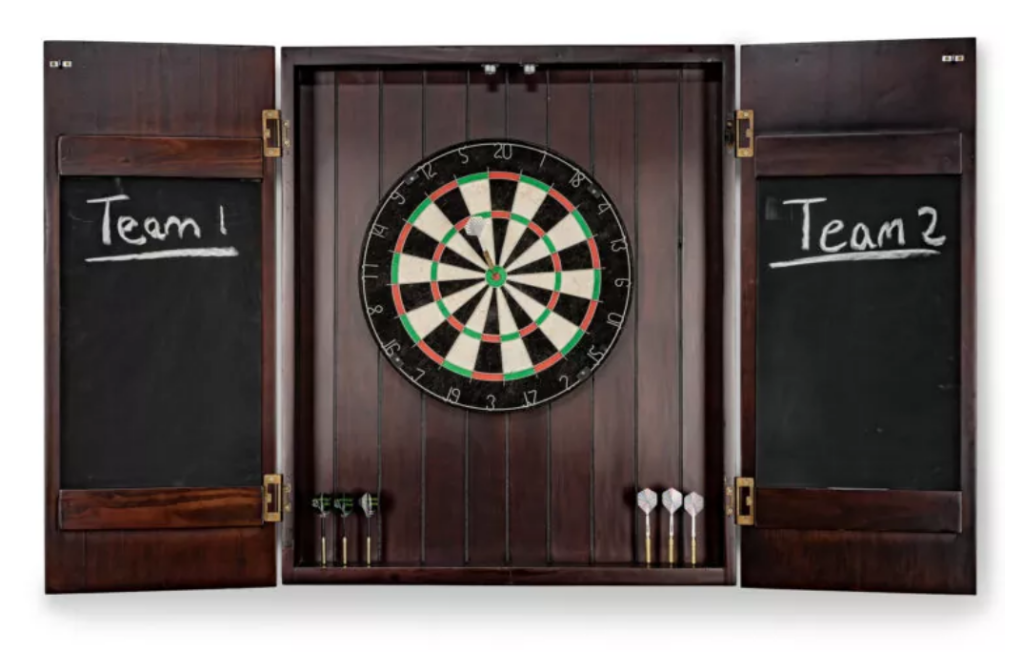 Selection of Rustic Dartboards
Rustic dartboards suit any home and are ideal for darts players that want to make a feature out of their favorite game. These cabinets come in various sizes and all have their unique characteristics. No matter what type of rustic dartboard cabinet you're after, you're sure to find a quality one on our list.
Check this article next for some more dartboard cabinet ideas.
Sue has been playing darts since her 20's when she played in weekly tournaments and she enjoys writing about darts. She's also a great teacher, and she enjoys helping others learn how to play the game well. When Sue isn't throwing darts, she enjoys spending time with her family and friends.
Get Our Free Darts Scoresheets Pack
The easy way to keep track of scores whilst playing
The easy way to keep track of your score is with our printable darts scoresheets. Easy to download and keep on your phone or computer or print straight off from our website. Pop your email address into the box and we'll send them straight to you.