If you're new to the world of darts, the terminology and parts of a dart can be confusing. In this beginners guide, we'll explain the different parts of a dart and what they do. We'll also provide some tips on how to choose the right darts for your playing style. So, whether you're just starting out or looking to upgrade your current darts, read on for all you need to know about Dart Parts Explained!
Sale
Last update on 2023-06-04 / Affiliate links / Images from Amazon Product Advertising API

Point (Tip)
The point is the sharp, metal tip of the dart that sticks into the dartboard. The point is also sometimes referred to as the "tip."
There are two main types of points: soft tips and steel tips.
Soft tips are made of nylon or another soft material, while steel tips are made of… well, steel. Both types of points can be used on bristle dartboards, but only soft tips can be used on electronic dartboards. Using steel tip darts on a soft tip dartboard will likely damage it.
Steel Tip Vs Soft Tip Points
Apart from the obvious differences in construction material, the other big difference between steel tip and soft tip darts is that soft tips are removable. This is because the tips often get bent and damaged and need to be replaced.
What are Movable Point Darts?
Movable point darts (also known as "retractable tip darts") are steel tip darts that have a point that can be retracted slightly into the barrel of the dart. It is designed to reduce bounce-outs. Some players really like them.
Barrel
The barrel is the main body of the dart. The barrel is what you hold onto when you throw the dart. Dart barrels come in a huge variety of styles, sizes, materials, and grips.
The barrel is like the essence of the dart where most of the weight is held. Tungsten is now an extremely popular material for dart barrels as it is heavier than brass which means darts can be much slimmer but still maintain a good weight. This is desirable as it allows a tighter dart grouping on the board.
Common dart barrel materials are:
Brass
Nickel & silver
Tungsten
Darts can weigh between 12g and 50g but most commonly are between 16g and 24g. Notably, steel tip dart weights refer to only the tip and barrel (and exclude the shaft and flight) whereas soft tip dart weights refer to the weight of the entire dart.
Barrel Grip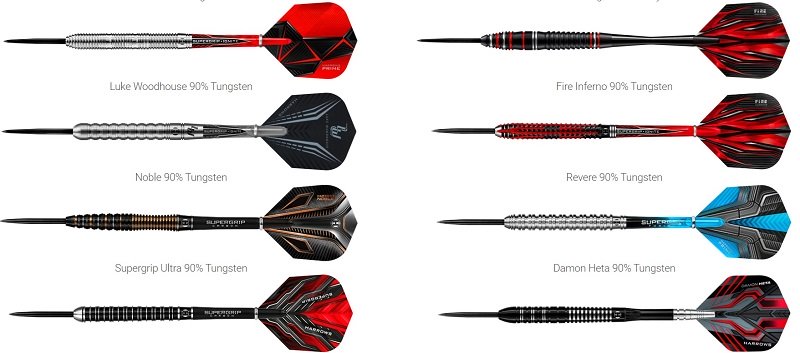 There is now incredible variety available for the different types of grips that are on dart barrels.
The grip pattern can help a dart player in several ways. The most obvious being the level of actual gip they offer when the dart is thrown and also the pattern they have can help bring consistency to where your fingers grip the dart.
Knurling is a term used to describe the cuts in the dart barrel that give extra grip. If a dart barrel is heavily knurled, it will have an aggressive grip.
Illustrated is an example of the HUGE variety of dart barrel grips available. These are from Harrows steel tip dart selection. Notice the extreme diversity in the grip pattern and the shape of the barrels.
Barrel Weight Balance
Although most darts are balanced in the middle there are exceptions and some darts are made specifically as front weighted darts as they will suit players who like to grip the dart toward the front end.
For examples of the best front weight darts, we have articles for both steel tip and soft tip varieties.
As dart players got better and the demands for a slimmer dart barrel grew, tungsten was adopted as a favorite material for dart barrels as it is dense and when mixed with nickel it makes a really strong dart. Darts can't be 100% tungsten as the material alone would be too brittle. However, when alloyed with nickel it makes a great combination.
Although tungsten darts used to be expensive, you can now pick them up for a great price. Check out the Javelins from Red Dragon opposite.
Shaft (Stem)

The shaft or stem is the part of the dart that connects the barrel to the flight. Shafts are usually made of aluminum or another lightweight material, and they come in a variety of lengths, however, most commonly between 30-50mm.
The length of the shaft will affect the balance of the dart and how it flies through the air. The shaft is part of the dart that can be switched out to test if your dart flies better with a different length or material.
The material of the shaft can drastically affect how well it holds the flights. A common problem with metal stems is they don't grip flights particularly well. That's why more often than not, you'll see professional dart players using nylon dart shafts as they grip the flights extremely well.
For information on how to remove a broken dart shaft, you might like this article How to Remove a Broken Dart Shaft.
Flight
The flights are the plastic (or sometimes feather) wings that help stabilize the dart in flight. There are many different shapes and sizes of flights, and you can experiment with different flights to see which ones work best for you.
The most common flight shapes are:
Final Thoughts
Now that you understand the different parts of a dart, it's time to figure out which combination of parts works best for your throw style. Everyone is different but luckily there is a lot of variety in dart parts that you get get the materials and even the colors that want.
Experiment with your new knowledge and see what kinds of darts work best for you. Remember, practice makes perfect!
Sue has been playing darts since her 20's when she played in weekly tournaments and she enjoys writing about darts. She's also a great teacher, and she enjoys helping others learn how to play the game well. When Sue isn't throwing darts, she enjoys spending time with her family and friends.
Get Our Free Darts Scoresheets Pack
The easy way to keep track of scores whilst playing
The easy way to keep track of your score is with our printable darts scoresheets. Easy to download and keep on your phone or computer or print straight off from our website. Pop your email address into the box and we'll send them straight to you.