Gotcha is a really fun pub darts game and can be played with 2-4 players. For all the information on how to play check out our full article – How to Play Gotcha Darts.
In a nutshell, there's no subtracting to do which can be light relief especially if you're having a few drinks! Choose a number to win (eg 301) and it's a race who can get there first. The 'gotcha' part is when a player can kill their opponent's score to zero by simply matching it in a subsequent throw. Our scoreboard has room for 2 players as it's better to play with either 1v1 or to make teams so you have 2 teams competing.
Check out our free printable PDF Gotcha scoresheet below or download the JPEG to your phone.
JPEG Picture Version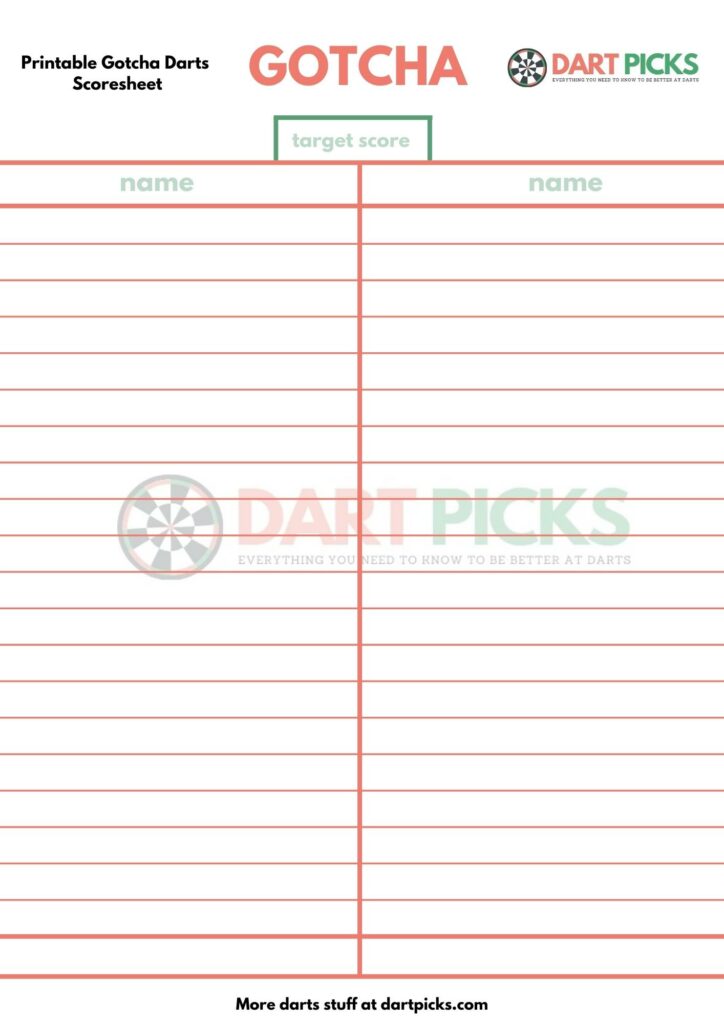 Sue has been playing darts since her 20's when she played in weekly tournaments and she enjoys writing about darts. She's also a great teacher, and she enjoys helping others learn how to play the game well. When Sue isn't throwing darts, she enjoys spending time with her family and friends.
Get Our Free Darts Scoresheets Pack
The easy way to keep track of scores whilst playing
The easy way to keep track of your score is with our printable darts scoresheets. Easy to download and keep on your phone or computer or print straight off from our website. Pop your email address into the box and we'll send them straight to you.